Posted on 02-11-2017
Everything about Bungo Stray Dogs: Dead Apple film
The official website of Bungo Stray Dogs anime announced all the necessary information for the upcoming Bungo Stray Dogs: Dead Apple film. In addition, it began streaming a trailer, which reveals that the premiere will take place on March 3 in Japan.
The trailer of the film:
The new visual of the film was also posted on the website.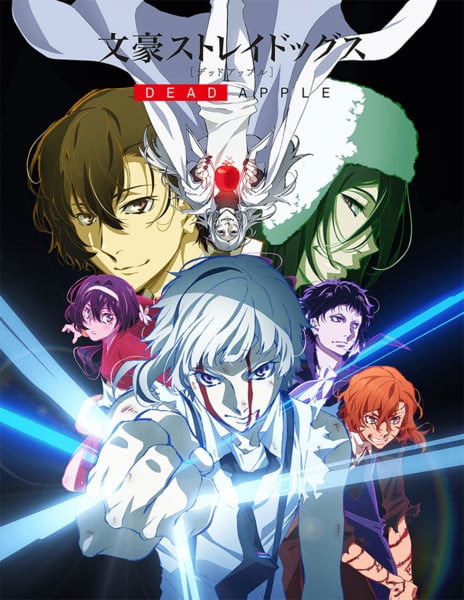 Most of the cast members will return to their original roles, including:
Yūto Uemura as Atsushi Nakajima
Mamoru Miyano as Osamu Dazai
Kensho Ono as Ryūnosuke Akutagawa
Kishō Taniyama as Chūya Nakahara
Sumire Morohoshi as Kyōka Izumi
Yoshimasa Hosoya as Doppo Kunikida
Hiroshi Kamiya as Ranpo Edogawa
Toshiyuki Toyonaga as Junichirō Tanizaki
Hiroyuki Kagura as Kenji Miyazawa
Yu Shimamura as Akiko Yosano
Chiaki Omigawa as Naomi Tanizaki
Rikiya Koyama as Yukichi Fukuzawa
Mitsuru Miyamoto as Ougai Mori
Sora Amamiya as Elise
Junichi Suwabe as Sakunosuke Oda
Jun Fukuyama as Ango Sakaguchi
Akira Ishida as Fyodor D.
Moreover, Kazuya Nakai is joining the cast, playing the character Tatsuhiko Shibusawa.
Takuya Igarashi returns to the direction of the film, while Yoji Enokido will be back to write the script in collaboration with the original manga creator Kafka Asagiri. Nobuhiro Arai returns to character design, while he will also serve as the chief animation director. Taku Iwasaki will handle the composition of the music. The film will be produced by studio BONES and distributed by Kadokawa Animation.
GRANRODEO returns to perform the opening theme, while Luck Life, who performed the ending songs for both television series, is handling the film's ending theme.
The story of the film focuses on a mystery case, involving power users from around the world, who are suddenly committing suicide one after another, after the appearance of a strange fog at the scene. At the request from Ango Sakaguchi, the Armed Detective Agency heads out to investigate Tatsuhiko Shibusawa, a power user called a "collector", and a man suspected of being tied to the incident.
Bungō Stray Dogs anime is an adaptation of Kafka Asagiri and Sango Harukawa's manga. The first television season premiered in April 2016, while the second 12-episode season followed in October of the same year. The manga has also inspired a smartphone game and an OVA, which is slated to be released on August 14.
Source: animenewsnetwork.com